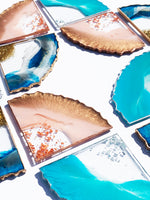 Welcome to the online gallery of fluid artist Sharon Lee Hashim.
Specializing in fluid painting with poured acrylic paints, Sharon offers breathtaking original pieces on canvas in a range of sizes. She also produces functional art such as coasters and wooden serving trays.
To browse and buy artwork, visit the Online Shop using the navigation menu above. To learn more about Sharon, visit her About Me page.
If you have any questions about shipping etc., please visit the Important Information page before you order. If you'd like any other information or need any help, please get in touch via the Contact page.