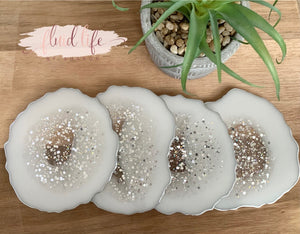 These coasters would make a unique gift for functional use or decor.
This item is not dishwasher safe. Do not soak. Clean with mild soap and wipe dry.
*This is the original piece and cannot be replicated. That makes each piece a special one of a kind piece.
Caring for Your Item
Resin – Resin should be treated like glass. To clean a resin painting, use a soft/microfibre cloth and use small circular motions to clean the surface of the painting.
You can use warm water and even window or glass cleaner to clean your resin painting.
Please do not use solvent cleaners or cleaning products with harsh chemicals as these will damage the item!
Please do not use bubble wrap as the bubbles can imprint into the canvas or resin!
Imperfections
Each piece of artwork is made with a lot of love and care and receives my full attention. However, the items may still contain minor imperfections.